Crossroads Galvanizing, LLC awarded "Distinguished Supplier Award" by Wabash National Corporation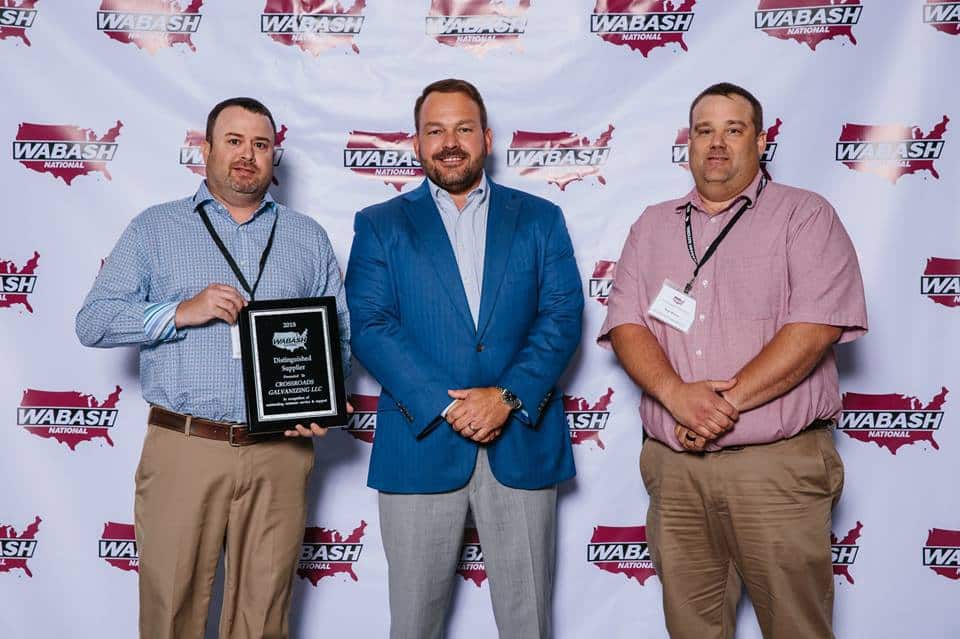 Just three months after opening its doors, Crossroads Galvanizing, LLC, a business with family ties to Monnig Industries, Inc. of Glasgow, Missouri, has received Wabash National Corporation's "Distinguished Supplier Award." This esteemed honor was presented last month at the annual Supplier Conference in Lafayette: the home of both Wabash National and Crossroads Galvanizing.
Out of the 240 businesses in attendance for the evening's events, only 29 would leave with awards in hand. Wabash President and CEO, Brent Yeagy, proudly described the 2018 conference theme, Becoming Agents of Change, as the core focus of the corporation's final award selections.
"As Wabash National grows and expands its ability to create a better tomorrow, we need partners who aren't afraid to collaborate, innovate, and grow with us," Yeagy explained. "This year's supplier award winners not only demonstrated exceptional scorecard metrics, they also supported key initiatives that enable Wabash National to be an agent of change in our industry."
Randy Maffett, Wabash National's Strategic Commodity Manager, echoed Yeagy's sentiment by identifying Crossroads Galvanizing, LLC's commitment to one such key initiative that set them apart from others.
"Crossroads received the 'Distinguished Supplier Award' because of their substantial investment in a new facility close to our proximity, which adds value and reduces freight costs," Maffett said. This intentional collaboration with the Wabash supply base impressed the corporation as a whole, compelling them to deem Crossroads Galvanizing worthy of receiving this significant honor.
Jason Monnig, manager of Crossroads Galvanizing, LLC, humbly recognized his family's business values that initially caught the eye of Wabash National, resulting in Crossroads Galvanizing's beginnings in Lafayette, Indiana. "Wabash called us because they heard about our reputation," he stated. "They wanted to partner with someone that had the resources of a big company, but behaved more like a small company."
Monnig credits his hometown Glasgow community for instilling such values and producing persevering individuals with the work ethic necessary to make Crossroads Galvanizing, and its subsequent awards and national recognition, a possibility.
"There are a lot of local people in Glasgow who deserve a part of this special award," Monnig added. "They made a lot of sacrifices over the last several months and that's ultimately what made this plant happen. None of this would be possible without the hard work and dedication of the Glasgow team and of course, their families who also had to do some sacrificing of their own."
This award marks the first national nod to Crossroads Galvanizing, but Monnig's current relations with Wabash National give him confidence in achieving future successes. "Our future hinges on our ability to partner with customers who will stretch our capabilities and make us better, as Wabash does every day. Our co-location strategy with this corporation is a defining tactic for our business as a whole."
Monnig is also quick to acknowledge that any forthcoming success of Crossroads Galvanizing is only possible because of his dedicated team. "Time and time again, we have counted on our team members at all levels, and time and time again, they have exceeded our expectations. We are blessed with a world-class workforce who possess an unparalleled work ethic. None of this would be possible without them."